Classic Smoking Pipe Wooden | Vintage Tobacco Pipe Smoking Pipe (6 Inch)
Regular price
$15.00 USD
Sale price
$11.98 USD
Unit price
per
Sale
Sold out
Use
ROYAL10
and get
10% off
on your purchase
TOBACCO PIPE SIZE: Length: about 6 in / 15 cm . Bowl Height: about 0.8 in /2 cm. Bowl Width: about 1 in / 2 cm. Weight:0.04 lb / 20g (Smoking Pipe Wood)

Easy To Carry: It Is Small Enough To Fit Into Pockets, Wallets, And Carry-On Handbags. It Is Simple To Use At Any Time And From Any Location. It Is Made From Natural And High Quality Wood Material For Long Lasting Usage.

Perfect Gift For Smoker Lovers: This Is The Perfect Conduit For Your Safety And Durability. The Cool Look Is The Best Gift You Can Get And An Excellent Gift Choice For Father'S Day, Christmas Day, Thanksgiving Day, Teacher'S Day, Etc.

Wooden Tobacco Smoking Pipe: This Wooden Smoking Pipe Is A Great Traditional Pipe! This Pipe Is All Wood And The Tobacco Bowl Comes Out For Easy Cleaning. It Features A Removable Pipe From The Body, Very Comfortable To Use.

Convenient And Healthy: It Does Not Contain Any Harmful Substances And Is Completely Safe To Use
Shipping & Returns

● The Indian postal service will handle standard shipping.
● We have a standard shipping time of 1-7 business days within India. Your order will be processed within the next 24 hours.
● Items are only exchanged if they are faulty, damaged, or the incorrect item was shipped within the specified time frame of seven days.
● For other inevitable reasons, there will be no refunds.
● After 7 days, we are unable to honour exchange requests.

Care Instructions

● Smoking is not permitted in public places, whether it is tobacco or not.
● We assume you consulted a physician before purchasing this medicine and are not self-medicating.
Share
View full details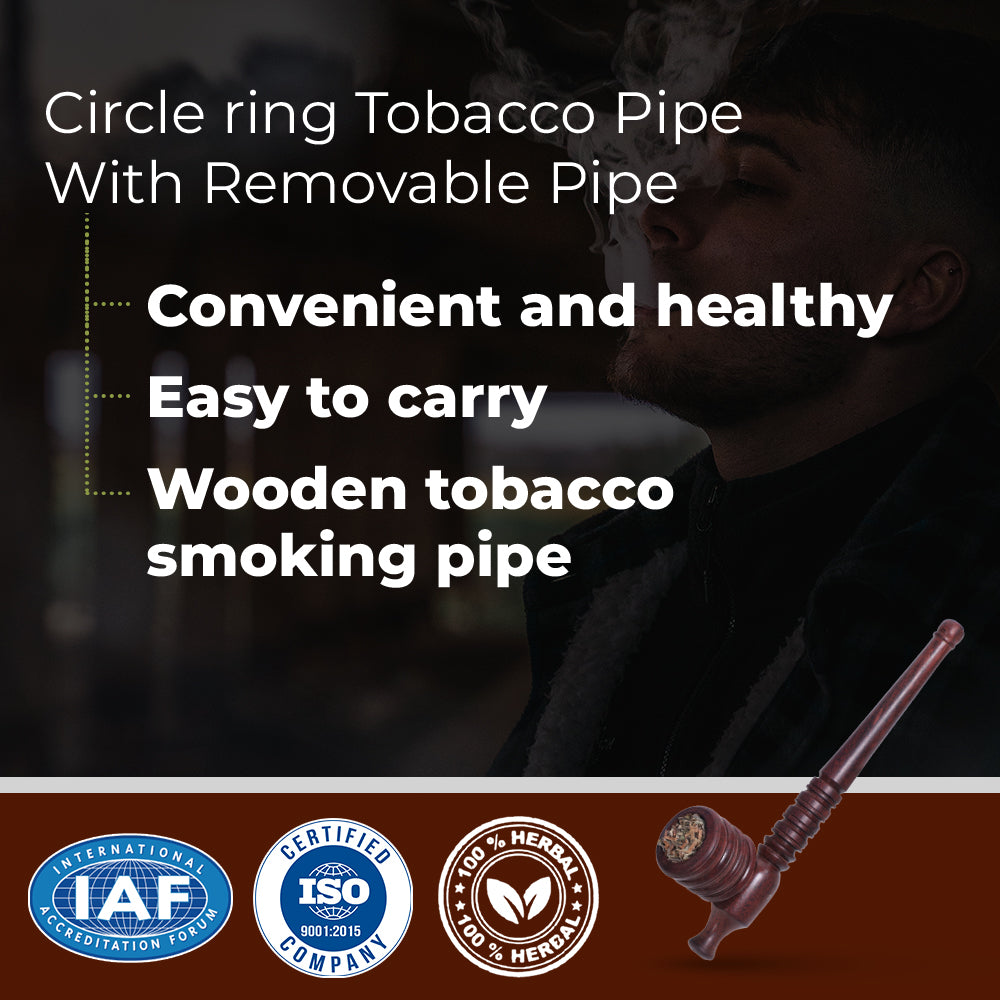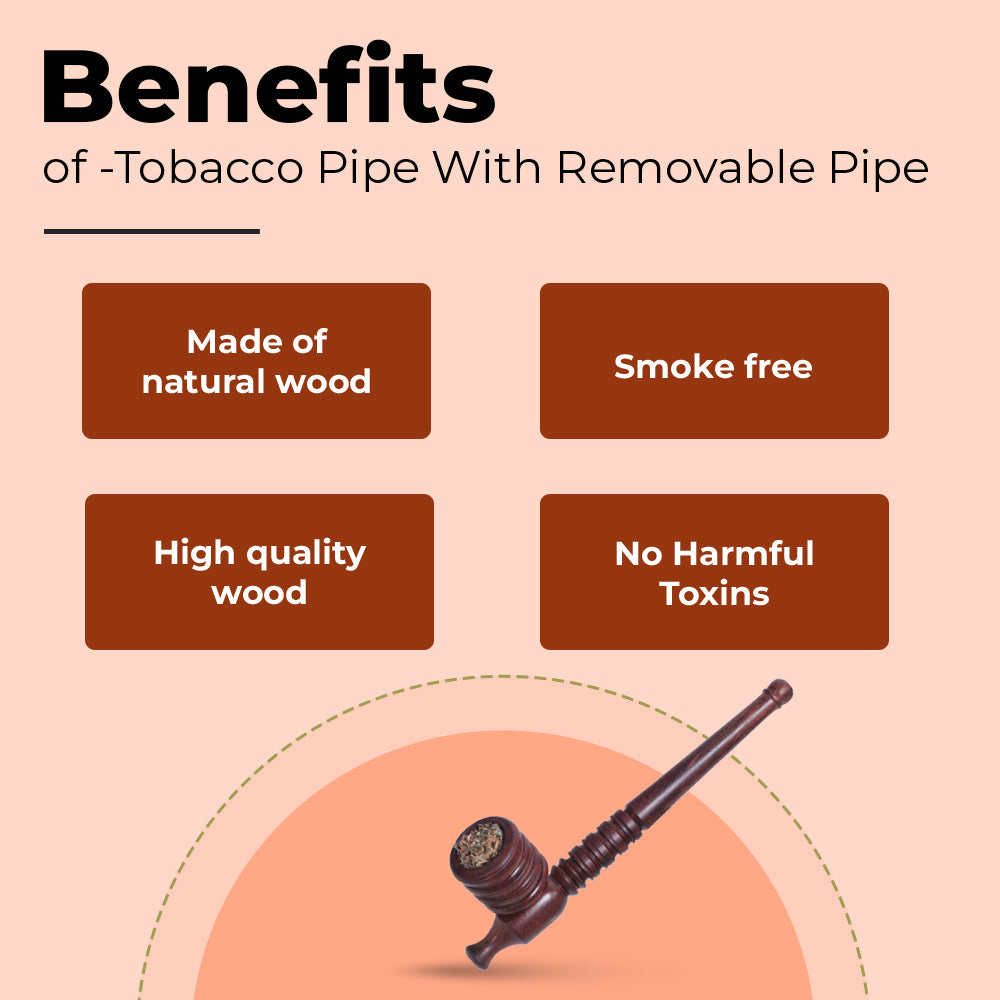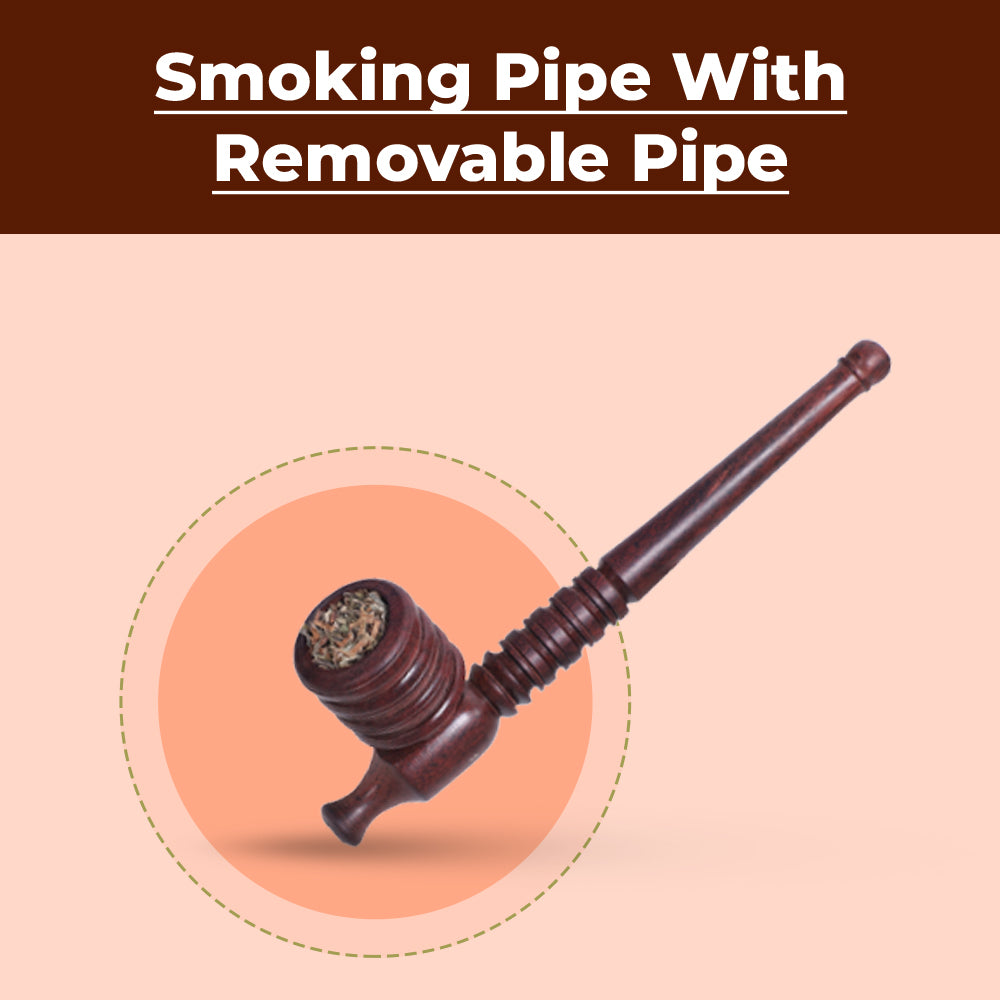 Hubby loves it
Good pipe for the price, comes with all pictured, feels sturdy, nice mouth piece, needs replacement ends just in case (not that he needs one. ) not fancy but close enough.
Works great
It has a nice size. Easy to travel with and easy to assemble and take apart to clean.
Great pipe
It's a great pipe first rosewood pipe I ever owned and the longer I smoke it the darker it gets
Frequently Bought Together
FAQs
A wooden smoking pipe is a traditional tobacco pipe made primarily from wood. It consists of a bowl where the tobacco is placed, a stem for drawing the smoke, and a mouthpiece for comfortable use.
Wooden smoking pipes offer several advantages. They are known for their aesthetic appeal and the natural beauty of the wood grain. Wooden pipes also tend to develop a unique patina over time, adding character to the pipe. Additionally, different types of wood can influence the taste of tobacco and Smoking blends, enhancing the smoking experience.
When choosing a wooden smoking pipe, consider factors such as the type of wood, shape and size of the bowl, weight, and overall design. It's important to select a pipe that feels comfortable in your hand and matches your personal style and smoking preferences.
Regular cleaning and maintenance are essential for the longevity and optimal performance of a wooden smoking pipe. This typically involves using a pipe cleaner to remove residue and build-up from the stem and bowl. Additionally, allowing the pipe to rest and dry properly between uses helps prevent moisture-related issues.
While wooden smoking pipes are primarily designed for smoking tobacco, they can be used for smoking other legal herbs or smoking blends. However, it's important to ensure that the herbs or blends you choose are suitable for smoking and won't cause harm.