Tobacco & Nicotine Free Herbal Smoking Blend - 1 Pack (1 Oz/30gm)
Regular price
$14.00 USD
Sale price
$14.00 USD
Unit price
per
Sale
Sold out
Use
ROYAL10
and get
10% off
on your purchase
• Quit smoking with power of Ayurveda: In the emotional aspect of giving up smoking, An herb-based cigarette or Herbal blend plays an essential role allows you to continue smoking while the body clears out the addictive substance.
• Tobacco Free, Nicotine Free, Chemicals Free, Addition Free
• Get over the nicotine addiction with style, good taste and all natural herbs
• 1 packet - 30 Gram / 1 oz
• Made In India Product
• Made from natural key ingredients Clove, Tulsi, Cinnamon and Mulethi.
• It is based on research for Nicotine Replacement Therapy(NRT) with a blend of various Ayurvedic medicinal herbs that assits to quit smoking. Healthy Smoke For Everyone.
• Royal Swag Herbal Cigarette is formulated on the basis of the concept of «Charaka Samhita» Charaka Samhita book of Ayurveda, which is 5000 years old a former Indian systems of medicine.
Shipping & Returns

● The Indian postal service will handle standard shipping.
● We have a standard shipping time of 1-7 business days within India. Your order will be processed within the next 24 hours.
● Items are only exchanged if they are faulty, damaged, or the incorrect item was shipped within the specified time frame of seven days.
● For other inevitable reasons, there will be no refunds.
● After 7 days, we are unable to honour exchange requests.

Care Instructions

● Smoking is not permitted in public places, whether it is tobacco or not.
● We assume you consulted a physician before purchasing this medicine and are not self-medicating.
Share
View full details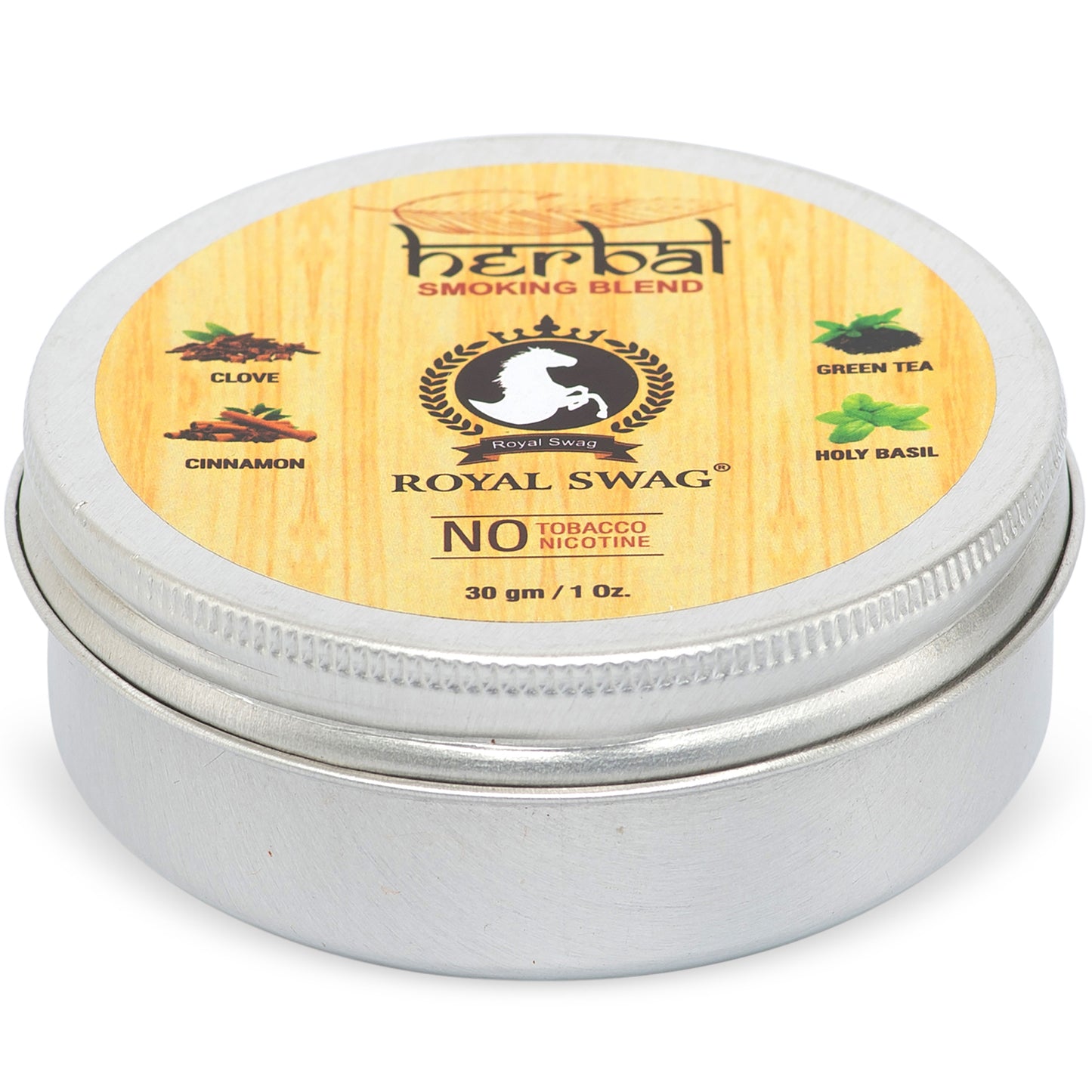 Satisfying
Just received my first pouch of this and I love it. I really feel I could quit smoking with this, but also not feel guilty if I light up. - from a long time smoker.
Not the best taste
I'm not a heavy smoker but the smoke just burnt my nostrils without any significant taste or effect and a really bad aftertaste.
Herbal smoking Blend
Good stuff just as good as the herbal cigarettes I buy but cheaper
Nicotine Free. Good Taste.
Frequently Bought Together
FAQs
Herbal smoking blend is a combination of dried herbs and botanicals that are specifically prepared for smoking. It is a non-traditional tobacco product that may provide a more natural and pleasant smoking experience.
The use of herbal smoking mixtures is very similar to that of conventional tobacco products. They could be smoked in a pipe or rolled into cigarettes, Pre rolled cones, Palm Leaf rolls. Some blends might also work well in herbal vaporizers.
You can Mix the Royal swag Herbal Smoking Blend with your legal pot in appropriate portion for the taste enhancement and Flavours to your great smoking experience
While herbal smoking blends do not contain nicotine, they are not intended to be used as a smoking cessation aid. If you are looking to quit smoking, it's important to seek out professional help and support to develop a plan that works for you.
Herbal smoking blends are generally considered to be safer than tobacco and marijuana products, as they do not contain nicotine or THC. However, it's important to note that smoking any substance can be harmful to your health, and herbal smoking blends should be used in moderation.
Herbal smoking blends do not contain nicotine, which is the addictive substance found in tobacco products. Therefore, they are not considered to be physically addictive.