Ayurvedic & Herbal Keek NiK Nicotine Free 25 Candy (Pack of 1) | 85 gram
Regular price
$9.49 USD
Sale price
$9.49 USD
Unit price
per
Sale
Sold out
Use
ROYAL10
and get
10% off
on your purchase
• 100% Tobacco Free -100% Nicotine Free Keek Nic Candy to fulfilled you Nicotine Kick And Help to Quit
• Pack Contain: 25 Candy which will remind you the Taste of 90's Famous Imli Taste Candy and it is about 85 Gram Pack
• Keek Nic can use Anytime, Anywhere for mood and mouth refreshment
• Ingredients: Tulsi (Ocinum Sanctum), Liquorice (Glycyrrhiza Glabra), Clove , Sugar, Liquied Glucose, Menthol, Balck pepper, Long Pepper, Ginger, Brahmi, Vacha (Acorus Calamus), Tamarind Flavor
• How to Use: Chew or Suck Your Childhood Taste Candy when you desire for Addiction Need
• It will give you a kick of As same as Nicotine. It is Proven way to quit smoking it that slowly Slowly decrease the Intake of the nicotine to the body.
• It is healthy for Everyone.
• Natural Tasty Imli Flavour Candies refreshes your mind.
Shipping & Returns

● The Indian postal service will handle standard shipping.
● We have a standard shipping time of 1-7 business days within India. Your order will be processed within the next 24 hours.
● Items are only exchanged if they are faulty, damaged, or the incorrect item was shipped within the specified time frame of seven days.
● For other inevitable reasons, there will be no refunds.
● After 7 days, we are unable to honour exchange requests.

Care Instructions

● Smoking is not permitted in public places, whether it is tobacco or not.
● We assume you consulted a physician before purchasing this medicine and are not self-medicating.
Share
View full details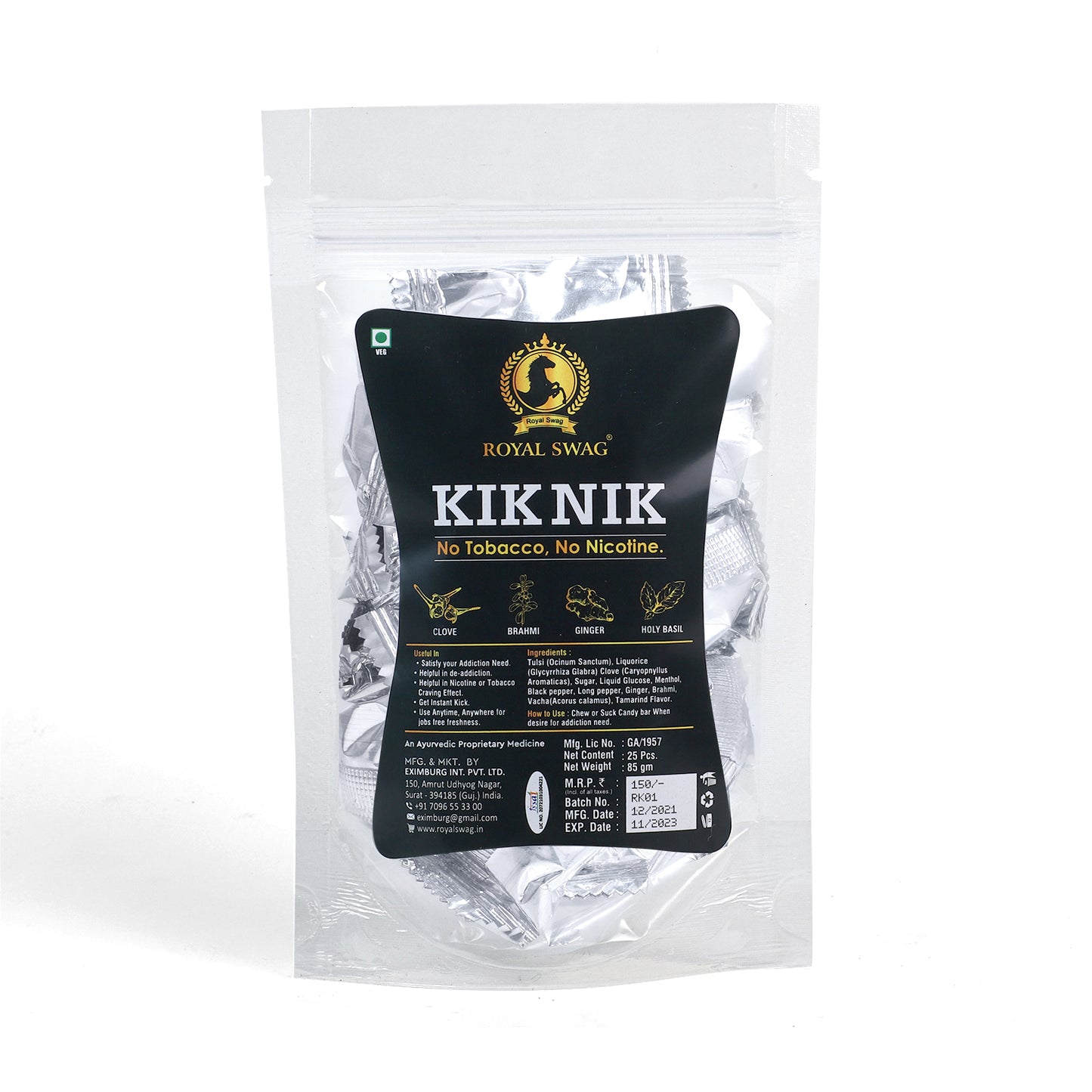 Frequently Bought Together
FAQs
Kik-nik is a product offering chewable and swallowable herbal candy. It is designed to provide a similar experience to nicotine gum without containing nicotine. Kik-Nik may be used as a smoking alternative or as a flavorful candy for individuals seeking an herbal chewing and swallowing sensation.
Kik-Nik is meant to be chewed and swallowed. Simply place the candy in your mouth, chew it to release the flavors, and then swallow it. It can be enjoyed as a pleasant and herbal chewing experience. to satisfy your nicotine Craving.
Kik-nik and similar products are primarily designed for individuals who want to quit smoking or reduce their nicotine consumption.