Herbal Cigarette Combo Pack of Clove and Mint Flavour (25 Stick Each) Nicotine Free & Tobacco Free | 50 Sticks
Regular price
$38.98 USD
Sale price
$38.98 USD
Unit price
per
Sale
Sold out
Use
ROYAL10
and get
10% off
on your purchase
• Key Ingredients: Clove, Holy Basil(Tulsi), Cinnamon, Mint(Menthol), Green Tea and Mulethi
• A Tobacco Substitutes | Tobacco Alternatives Cigarette - Tobacco-Free, Nicotine Free
• Clove, Frutta and Mint is the World First pungent herbal formulation blend in Herbal Cigarette, It helps in decreases nicotine craving symptom and helps to quit tobacco smoking.
• Ayurvedic Herbal Cigarette help in Induces a sense of well being and helps concentrate mind due to its herbal contents.
• Natural Juicy Flavor - Neutral, delicate taste provides a perfect smoking experience, Pleasant and durable smell of smoke, No bad breath.
• Let's Beat the Tobacco Habit with ROYAL SWAG ! Non addictive - Contains no addictive substance.
• It is based on research for Nicotine Replacement Therapy(NRT) with a blend of various Ayurvedic medicinal herbs that assits to quit smoking. Healthy Smoke For Everyone.
• ROYAL SWAG Herbal Cigarette is formulated on the basis of the concept of «Charaka Samhita» Charaka Samhita book of Ayurveda, which is 5000 years old a former Indian systems of medicine.
Shipping & Returns

● The Indian postal service will handle standard shipping.
● We have a standard shipping time of 1-7 business days within India. Your order will be processed within the next 24 hours.
● Items are only exchanged if they are faulty, damaged, or the incorrect item was shipped within the specified time frame of seven days.
● For other inevitable reasons, there will be no refunds.
● After 7 days, we are unable to honour exchange requests.

Care Instructions

● Smoking is not permitted in public places, whether it is tobacco or not.
● We assume you consulted a physician before purchasing this medicine and are not self-medicating.
Share
View full details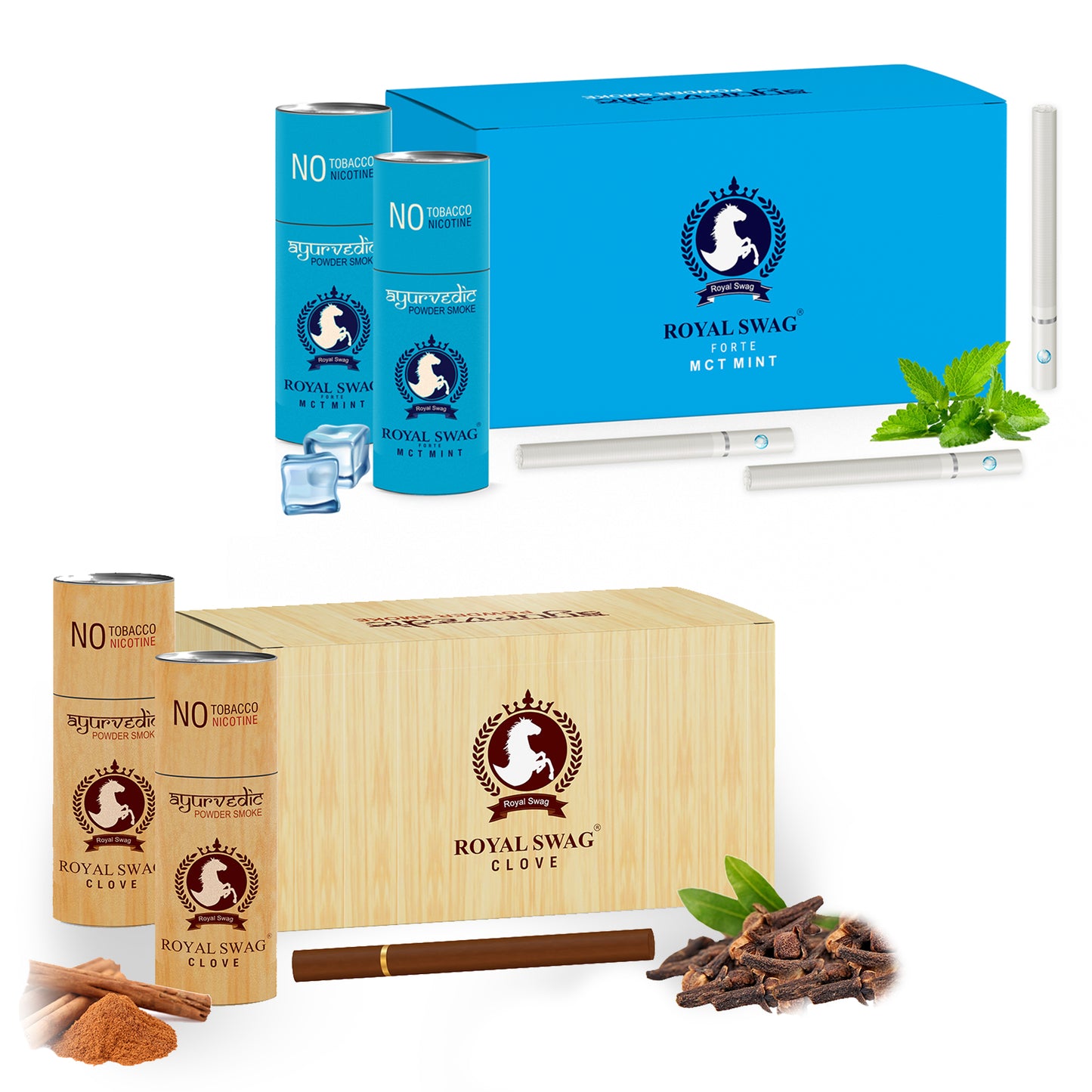 It's really good for health and to be tobacco and nictonin free
It's really good product for those who are passive smokers it will help your health too
Amazing product
Amazing product.I was diecy before because someone had written above in the reviews that sore throat... that's totally rubbish he might have taken something else in the mouth. I bought it and it's totally fine the filter could have been bigger rest is good.
Good.. if you want to quit smoking
I have come across some negative reviews. So posting here.. it's really nice.. very mild smoke.. burns like a regular ciggerate.. and has next to no smell..
Good Quality and tasty.
The herbal cigs were very nice! Having something that was tobacco free was nice. Good quality I will definitely purchase again.
Nice product
Good product... I really like it...
Frequently Bought Together
FAQs
The Royal Swag ayurvedic cigarette is made from plants and herbs and these herbal cigarettes are not at all harmful to the body.
The benefits of herbal cigarettes are as follows:
● They are non-toxic and nicotine free
● They don't have any side effects.
● They satisfy the cravings for nicotine and tobacco.
●They include herbs and plants that are good for cough and cold.

Some ingredients included in the Ayurveda herbal cigarettes are Tulsi, mulethi, cloves, green tea, fruit flavors, etc.

The ayurvedic cigarette benefits include relief from smoking addiction and it also helps in curing cough and cold due to the herbal ingredients like tulsi, mulethi, and cloves included in it.

There are no health hazards and no side effects of ayurvedic cigarettes.
The Royal Stag Ayurvedic Cigarette is 100% tobacco and nicotine free with non-toxic ingredients.
Yes, the herbal ayurvedic cigarette helps detoxify the body with natural ingredients.
There is no prescribed time for herbal cigarettes; you can consume them anytime.