Herbal Nasal Snuff Tobacco Free Mint Snuff Pack of 04(1 Pack=30 g /1 oz)
Regular price
$35.00 USD
Sale price
$35.00 USD
Unit price
per
Sale
Sold out
Use
ROYAL10
and get
10% off
on your purchase
• Herbal Nasal Snuff also known as Herbal or Dry snuff is an alternative to addictive nasal snuff.
• No Tobacco, No Nicotine and No additives - Just pure, powerful Herbal Snuff
• Herbal Nasal Snuff provides relief without the risk of addiction
• Herbal herbal snuff is made for all-natural blowing and sniffing pleasure. The finely ground provides a refreshing minty flavor
• Pack Contain: 4 Pack of 30 Gram / 1 Oz | 100 % Made In India Product
• Herbal Snuff is the finest snuff available, and while more herbs are used than in most snuffs, it's still 100% tobacco free.
• There are no additives of any kind; the only ingredients are the finest herbs for which it is famous.
• Our Herbal Snuff is a pure, healthy alternative to cigarettes that won't damage your health.
Shipping & Returns

● The Indian postal service will handle standard shipping.
● We have a standard shipping time of 1-7 business days within India. Your order will be processed within the next 24 hours.
● Items are only exchanged if they are faulty, damaged, or the incorrect item was shipped within the specified time frame of seven days.
● For other inevitable reasons, there will be no refunds.
● After 7 days, we are unable to honour exchange requests.

Care Instructions

● Smoking is not permitted in public places, whether it is tobacco or not.
● We assume you consulted a physician before purchasing this medicine and are not self-medicating.
Share
View full details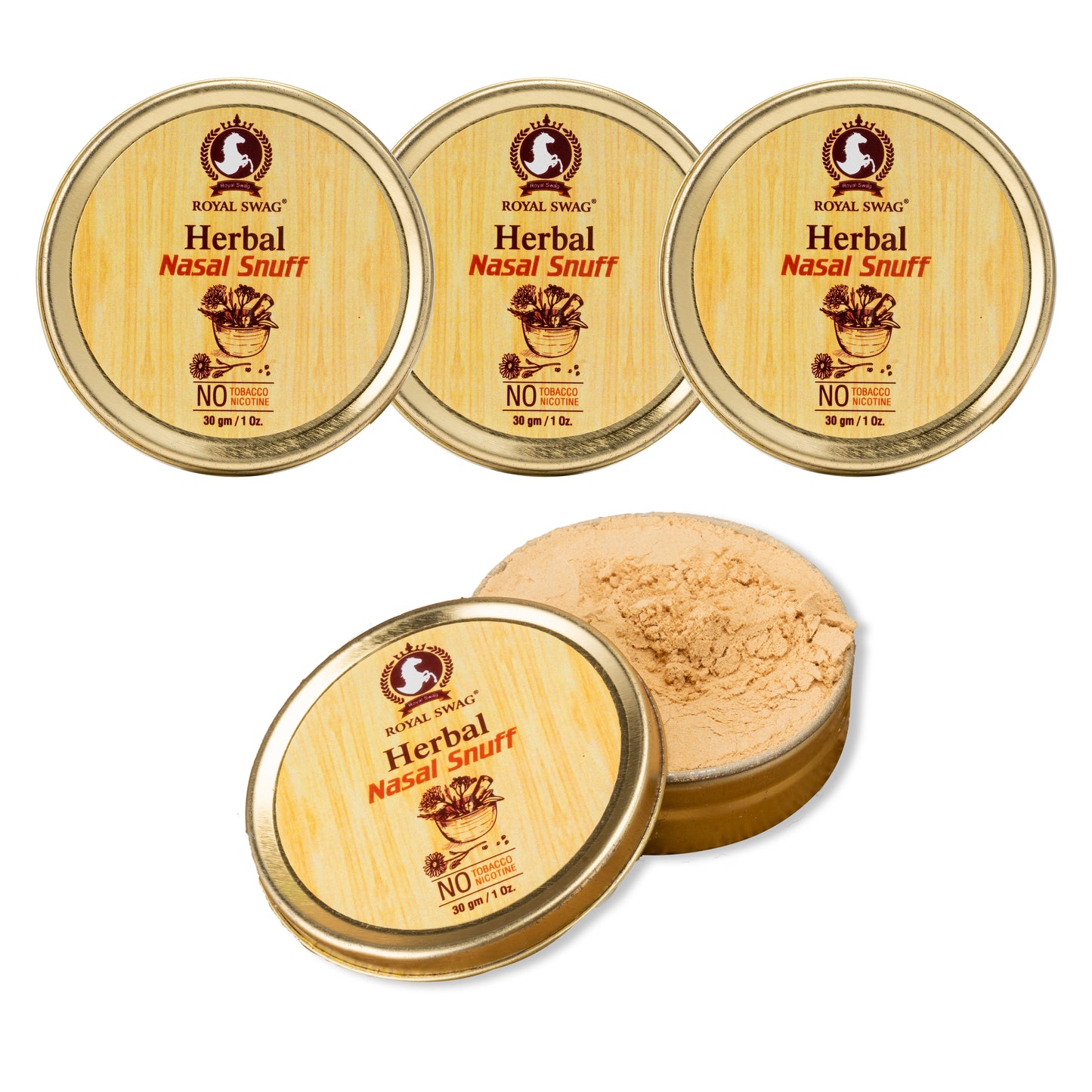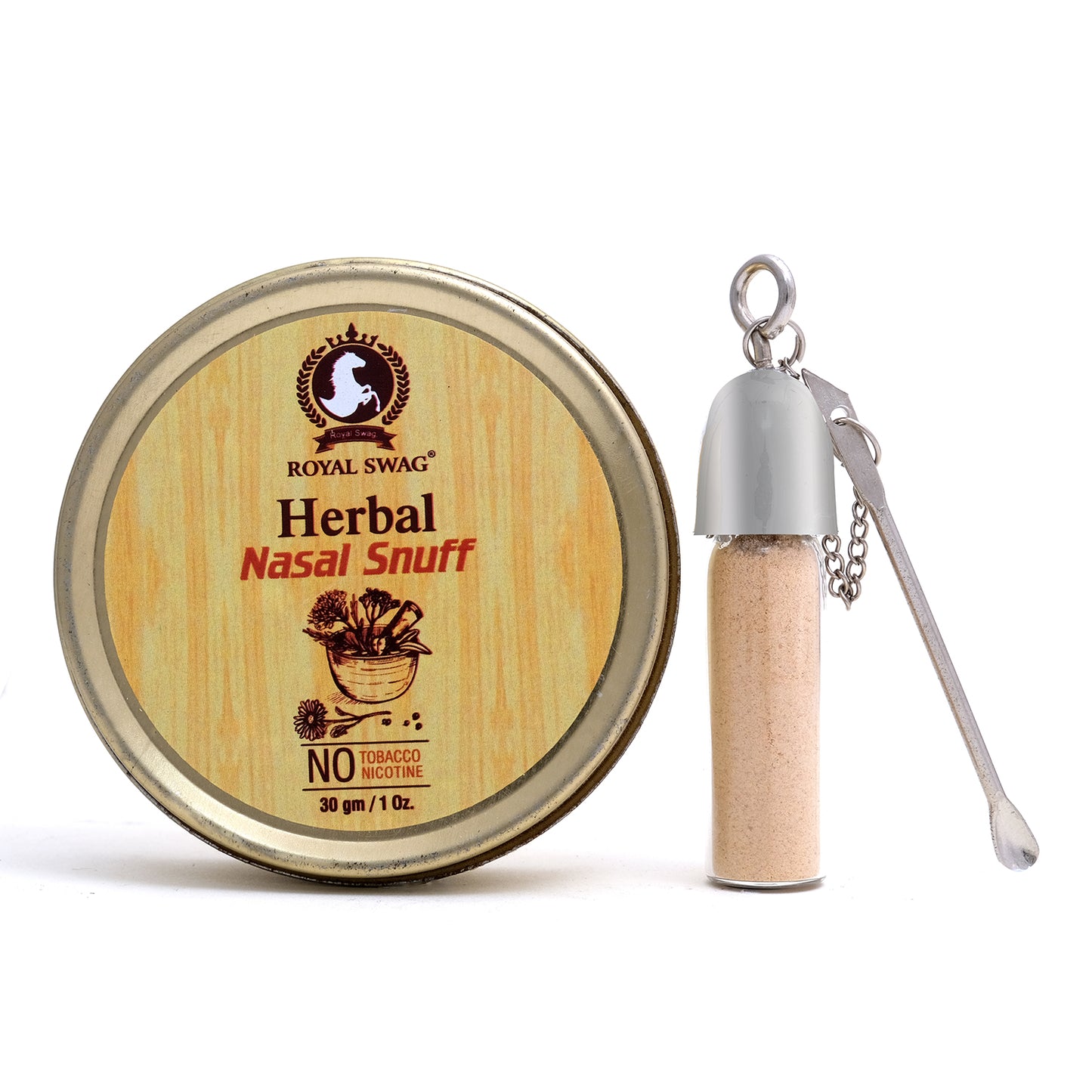 Getting my product fast
This product is safe and gives me the satisfaction of a real chew without real tobacco
No nicotine, helping me be tobacco free.
Like the wintergreen flavor, doesnt last as long as reg chew. Pricey, but well worth it if I get tobacco free.
Taste
I like this product its a great substitute for tobacco products and tastes the same.
Interesting and unique !
Very interesting and unique "Snuff".Comes in a beige powder.. brings. Me back to my teenage years ?? . They also threw in some "bonus" gifts .....
Frequently Bought Together
FAQs
Herbal snuff is a finely ground mixture of herbs, often scented with natural flavors, that is typically taken nasally. It is a smokeless alternative to traditional tobacco snuff and provides a stimulating experience.
Herbal snuff differs from tobacco snuff in that it is made from a blend of herbs and does not contain tobacco. It is a non-addictive and nicotine-free alternative for individuals who enjoy the experience of nasal snuff.
Herbal snuff offers a range of potential benefits. It can provide a stimulating sensation, offer aromatherapy benefits with various herbal scents, and serve as an alternative to tobacco products for those looking to reduce or eliminate nicotine consumption.
Herbal snuff is generally taken nasally. A small amount is placed between the thumb and forefinger and then gently sniffed into the nostrils. It is important to follow the instructions provided by the manufacturer for proper usage.
While herbal snuff is generally considered to be a safer alternative to tobacco snuff, it is important to be aware of potential risks. Nasal irritation, allergic reactions, or discomfort may occur in some individuals. It is advisable to use herbal snuff in moderation and discontinue use if any adverse effects are experienced.
Herbal snuff does not contain nicotine, which is the addictive substance found in tobacco products. Therefore, it is not considered to be physically addictive. However, habitual use of any snuff product, including herbal snuff, may develop psychological dependencies. It is important to use herbal snuff responsibly and in moderation.